Ah, the sock monkey. That stalwart fixture of North American childhood, right up there with the teddy bear. It's no surprise that it's a popular knit pattern for hats, although--like with many things on this continent--it does seem to be up for interpretation.
For example: Here, we have a classic take on the sock monkey hat, complete with matching mittens:
Aww, aren't they cute?
Next, we have a variation on that theme, in that the sock monkey hat is actually based on the hat the sock monkey wears, as opposed to a hat that resembles the sock monkey's entire head:
Not bad, huh? I particularly like how she made a matching scarf for the hat.
Then, we've got a more spartan approach to the sock monkey hat:
Hey--in these times of want, we can't very well be wasting yarn on fancy things like ears that look like someone left both of the back doors on a taxi cab wide open or a bobble ginormous enough to shelter a family of five, can we?
And finally, we have...actually, I don't know what we have here. But you've got to admit, it's original: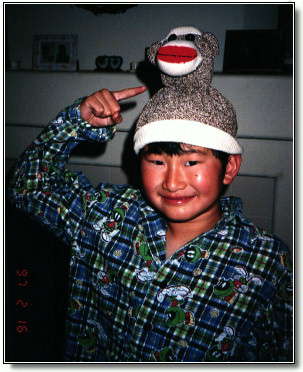 I don't know the story behind this one, but somehow I get the feeling that someone couldn't make up their mind as to what they wanted to make more--a sock monkey or a sock monkey hat--so they figured they'd split the difference.
And that's it for this week. Yes, I know it's a short one, but I'll be away later this week visiting with friends and I have a hunch that spending loads of time searching the Internet for wacky hats is not conducive to being a good house guest (or so I'm told.)
Have a good week, everyone, and I'll be seeing you on Monday!